For those who have been following our progress over the past few months, it's clear that we've been limited by the machine shops we rely on. We should probably just declare now that we're control freaks- rather than find addition vendors, we decided to buy a machining center to make it possible to do more in-house.
This turned out to be more complicated than we initially thought so we decided to document it here to help others.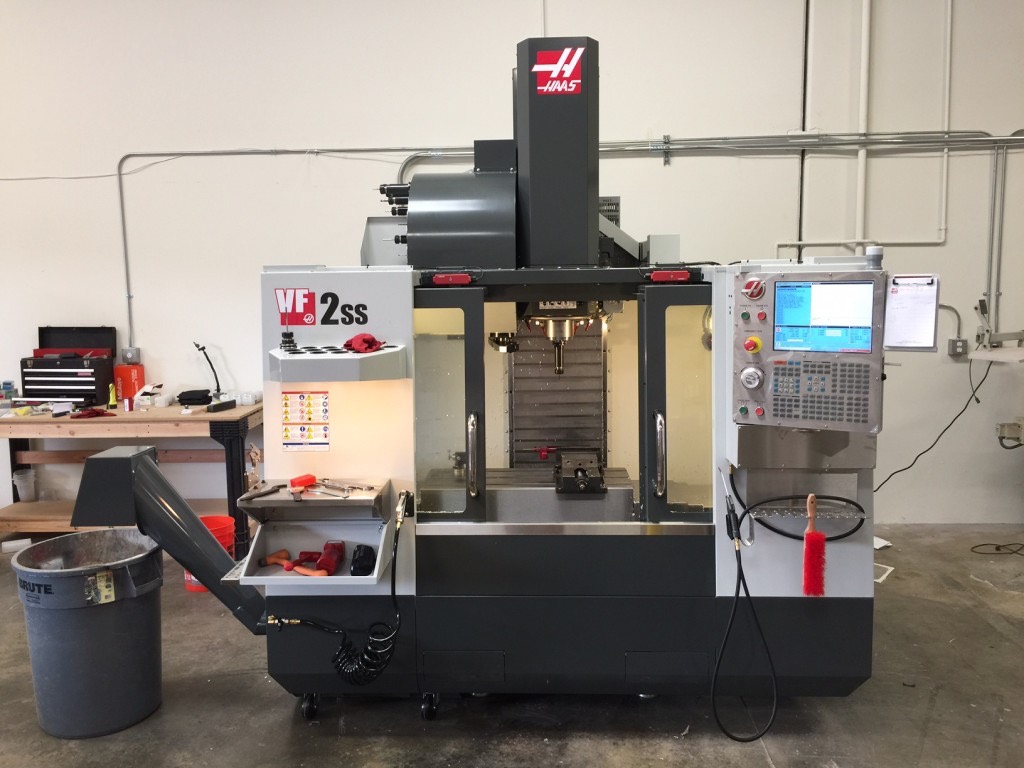 New or used
The first question was, "Do we buy new or used?" For us, this was simple, buy it new. While we're not new to CNC, we were new to industrial CNC machines. We didn't know how to identify a good or bad used machine, we didn't know who to call to move it, we didn't know how to get it up and running. We could have figured it out, but, as they say, time is money.
The other thing we saw from our current machine shop is that parts on their older machines were always breaking. We'd go to pickup our parts and go home empty handed because a pump or encoder went bad on the machine we were depending on. We didn't want to spend time trying to learn how to run a big machine while potentially dealing with problems.
What manufacturer
This turned out to be another relatively easy pick for us, we bought a Haas (but you already knew that from the title). We looked at a number of options and the Haas had the following benefits:
Open pricing. Just open the calculator on the website and pick the options you want. They'll tell you the total price and the monthly payment. No salesmen required.
The factory is an hour away from us and the local dealer is 5 minutes away
It's the least expensive of the true industrial CNC machine builders. There are cheaper options from Taiwan, but we wanted to stick to brands with a history better support.
Haas has a wide variety of machines and options to let you pick exactly what you want.
Competing machines were just a little to small without having to upgrade to the larger models.
The Haas cons:
Lots of people online who think that Haas is a toy.
Reputation for nickel and dime pricing that makes the price grow unexpectedly when you add a few options.
The first sales rep we were working with left Haas and went to go sell Mori Seki machines in the middle of our purchase. We got in touch with him and found out that a comparable Mori would be about double the price of a Haas. Without a doubt, it would have been a better machine. It isn't clear that a Mori would have led to much better results for our parts though. The Haas was stretching our budget so the Mori wasn't really an option either way.
Regarding the nickel and dime pricing, it's at least partially true.  On the other hand, Haas has some really great pricing on certain options that would be unaffordable (for us) from other manufacturers.  For instance, the probing system is about $5k on a Haas.  We were told by a rep for another brand that the equivalent option on this machine would add $10-15k.  At $5k it was a no-brainer.  At 2-3x, it's not something we could have justified.
Which machine to buy
As we mentioned, Haas has a wide variety of machines. We wanted a 4 axis mill that could fit all of the parts that we currently make with a little room to grow.
We'll be cutting aluminum almost exclusively so we wanted something that could cut that quickly.
For us, that ended up being a VF-2, one of their "smaller" machining centers. We ended up getting the Super Speed version to get a faster spindle, 12k RPM, and faster tool changes. We also added an HRT-210 4th axis because we have a number of parts that can be made more accurately on a 4th axis in one or two setups instead of 4-5 setups on a purely 3-axis machine.
We also got the Renishaw probing option and it's awesome. What we did't realize is that the tool length probe is mounted on the table so it'll eat into your working area. You can remove it but then you can't use it and you have to recalibrate it when you put it back on the table.
Just to be clear, the Haas reps never hid this fact from us, it was right in front of us in every photo we looked at. It just didn't click for us until we were looking at the machine in our shop. If you need the whole table and the probe, look at the next bigger machine.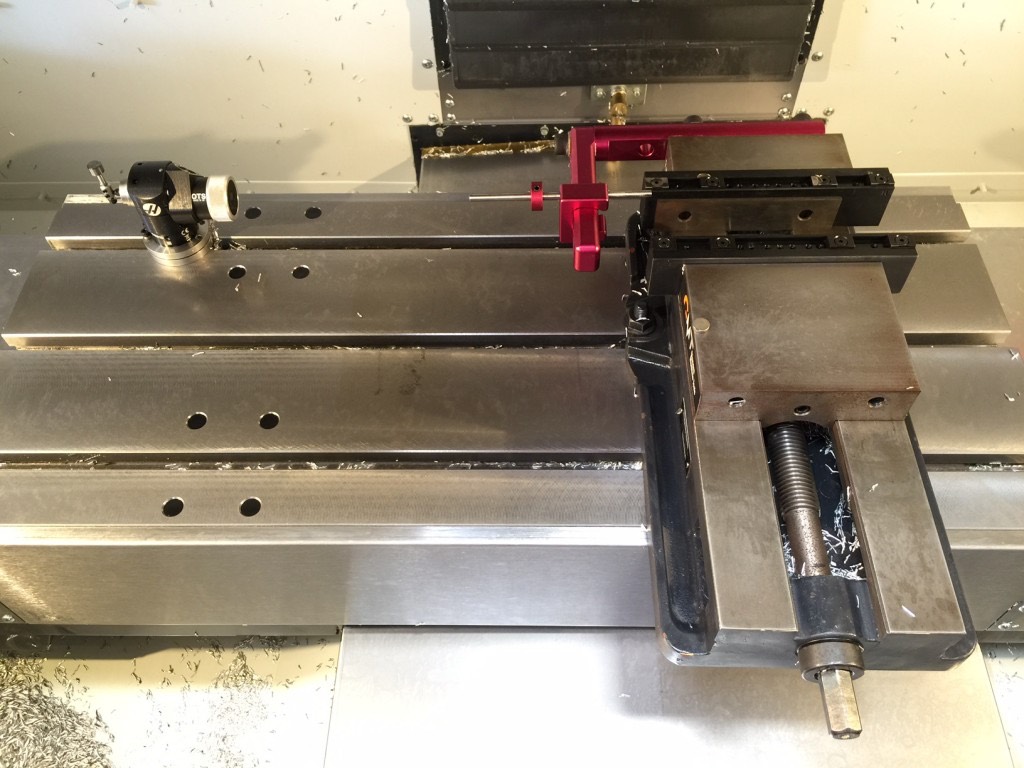 Ordering
Ordering a machine of this cost was stressful. We had the persistent fear that we'd fill out something wrong, or not know that we were clicking the wrong box, and end up with a machine that needed 20k of modifications to work for us.
As you might expect, this was totally unfounded. The Haas reps were great and there were zero surprises.
Pricing
For people like us, people looking to buy a single machine, not 10 of them, there seems to be little price negotiation possible. I've seen forum posts online mention that you can get 20% off a Haas but this wasn't our experience.
About 2 weeks after making contact with the local Haas rep, we got a call from him that a big promo was coming up in the next two weeks. That promo would drop about $7k from the price of the machine and add about $5k worth of options that we hadn't picked initially. In the end, we felt like this was a great deal. We haven't gone back to look at the total price reduction after we finalized the order but we're happy with the deal we got.
The promotion was icing on the cake, because of the deal we feel we received it would be difficult for us to  justify buying another machine from Haas outside of one of their promotions unless we were in dire need. Having bought one on "promo" before, maybe they'd honor that deal on another machine outside of the promo. No idea.
Paying for it
We ended up financing the deal through Haas. Because we're a young company, a couple of the partners had to personally guarantee payment. We fully expected this so it wasn't a shock.
The standard Haas terms are approximately 10% down with the rest over 48 months. Straight forward and easy to understand.
There are remarkably few documents for such a large financial commitment. It was a nice change from the onslaught of paperwork required for everything else we do.
The wait
Our machine had a three week lead time once we got the financing signed. We were told that the next size machine up (the VF-3) has a two week production time, so it's possible to get a machine quickly if you need it.
We were given an expected date from our rep right after the order went in and they met that schedule to the day.
Getting it delivered
We're only an hour from the Haas factory so our machine was complete on Friday, and delivered on Tuesday.
The VF-2 is an 8,000 pound machine, and this seemed like a big deal to us. You know how long it takes a rigger to move an 8000 pound machine from the truck into the shop and place it? 30 minutes. It turns out that a four ton machine is nothing for people who move machines for a living.
Obviously, the machine needs to be put on a concrete floor. There are additional requirements that the machine not straddle any joints in the concrete or be placed too close to the edge of any section of the concrete.
We talked to two different riggers and our Haas rep and they were less concerned about being close to the edge of a section than the installation manual specified so it's worth having someone take a look at your location if that's something you're worried about.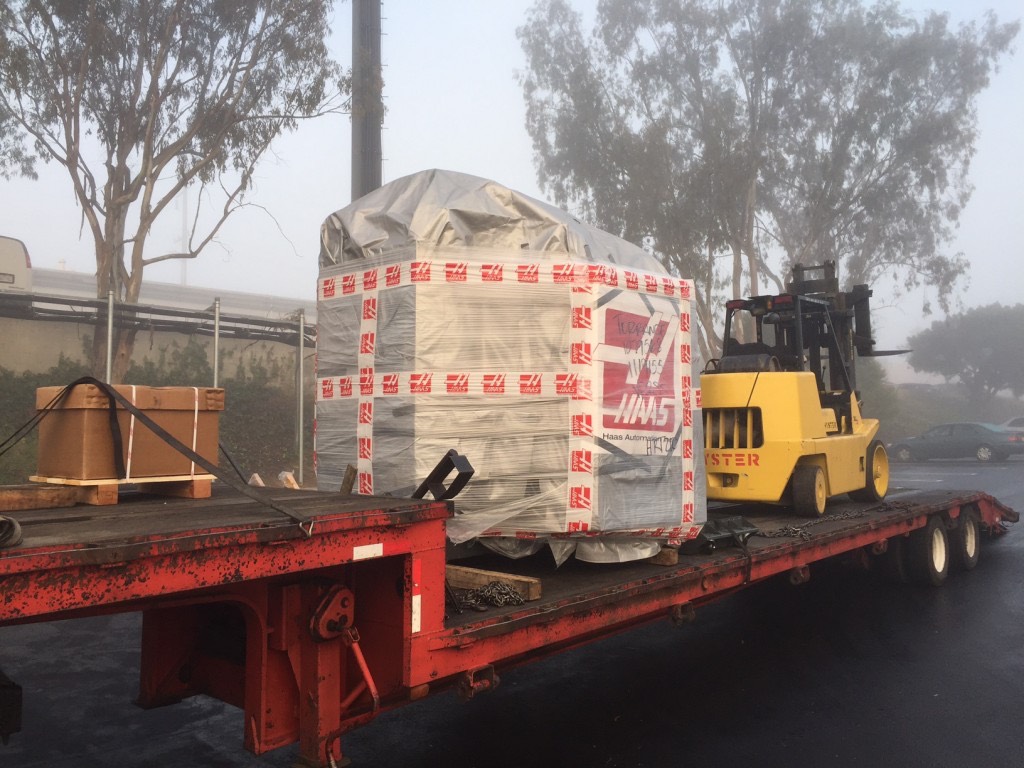 The final thing about placement that you need to be aware of is how much room they take up.  In addition to the machine itself, which is large, you need to leave three feet behind the machine so that it can be serviced.  If you're hoping to put it against the wall to keep it out of the way, be prepared to give up another three feet.
Power requirements
Our Haas VF2-SS required 100 amps of three-phase power. We had our electrician run all the wiring and install the cutoff panel while we were waiting for delivery. Because Haas was so accurate about the delivery time, we were able to schedule the electrician to hookup the machine 2 hours after is was delivered.
Electrician and material cost will vary greatly from region to region and from building to building but we paid about $4k for the wiring and hookup. We had to rewire a number of circuits to make this work so we paid more than we would have in a building that had ample power to begin with.
Installation
When a Haas is delivered, it's far from ready to run. Most places that order a machine of this caliber have a dedicated 'maintenance' department that has years of experience prepping the area for a machine like this. We don't have that luxury. Despite all that, the day after we got the machine (two days before Christmas), a tech from the local Haas office showed up to install the machine and we got a first hand look at what that consists of.
The process includes:
Leveling the machine
Attaching the control panel
Installing the chip auger
Cleaning off the protective wax and grease
Installing and calibrating the tool probe
Doing whatever configuration is required to activate it.
In total, this took about 4 hours to complete and we had a "working machine" the day after we got it. Again, the Haas support has been great and they've gone out of their way to help us even though we're in no way an important customer.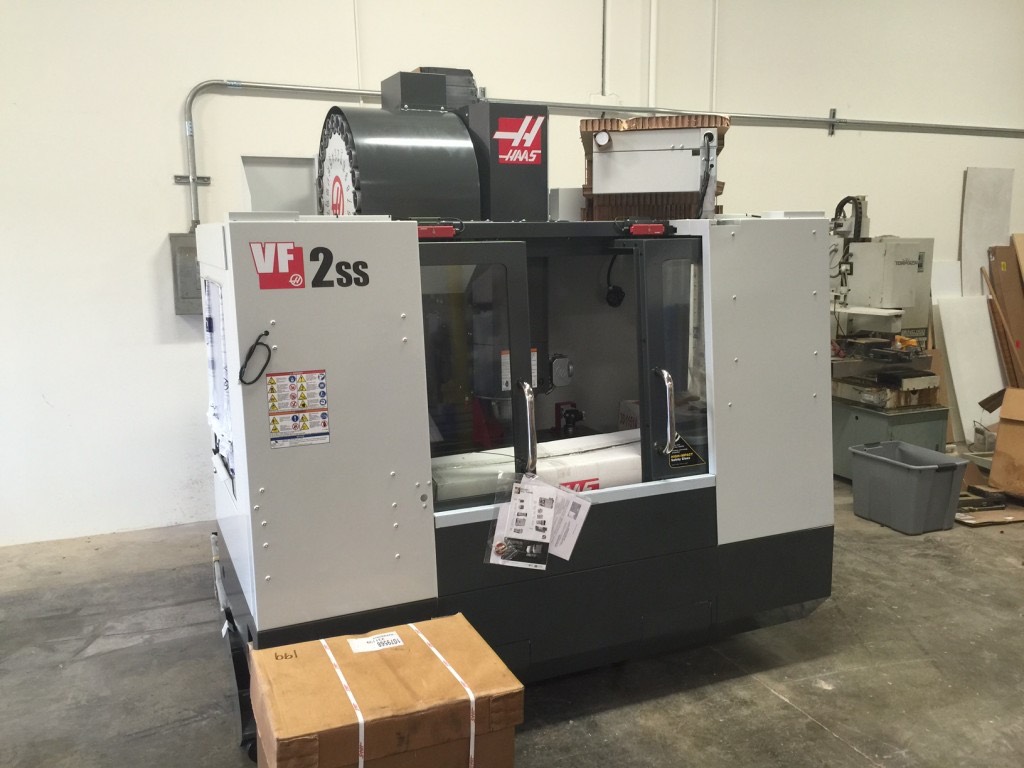 Tooling
Our VF-2 has a CAT-40 spindle so we needed a lot of CAT-40 tool holders to get started. The way this seems to work is that you buy a "tooling certificate" with the machine that can be redeemed with whichever tooling vendor you choose.
We paid $3k for a tooling certificate valued at $5k. We were given 3 vendors to choose from but, since we had no preference, it was recommended that we go with Kennemetal. We called up the local Kennemetal rep who showed up with catalogs the following day. We picked out everything we expected to need and it was delivered in three business days.
CAT-40 tool holders require a retention knob to allow the spindle to grab the end of the tool holder and keep it in place. These are not included from the tooling vendor and they were not included with our Haas order. We were told that the rep usually adds these to the order but they got missed because we bounced between reps after our first guy quit. We drove to the local office and paid (another) $500 for a pack of them.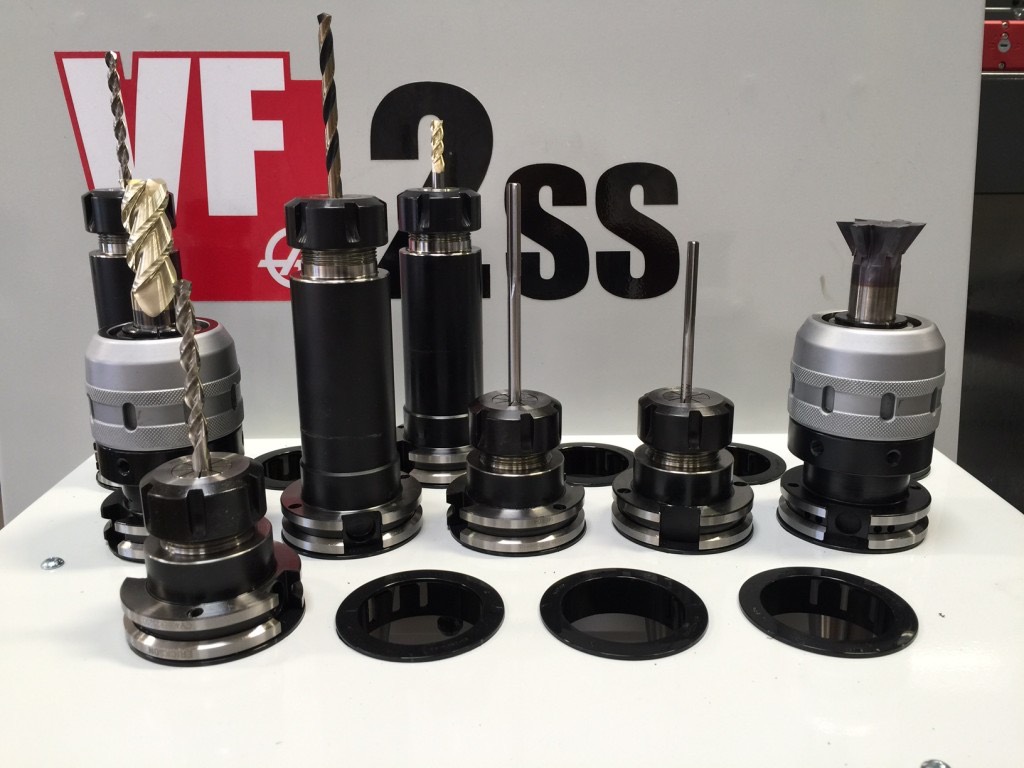 Coolant
The VF-2 had a 55 gallon coolant tank that needs to be kept full and we had no idea what product to buy. Luckily, the local Haas reps have a deal with a local oil company to have them provide the first load of coolant free. We called and the guy showed up the following day with a free 5 gallon bucket of oil.
Coolant is typically diluted to 7-10% so a 5 gallon bucket is more than enough to get started. The Haas rep recommended deionized water but the coolant rep said not to bother. The life of the coolant would suffer but that meant the life might go from 5-6 years to 3-4 years.
You will need a refractometer to measure the coolant concentration and maintain it at proper levels. This is only a $20 investment so it's the cheapest thing you'll be buying.
Training
The local Haas reps have a three-day training class that you can attend for free. We haven't done it yet so we can't tell you how good it is.
We were also told by our installer that we likely have 2-4 hours of on-site training from an applications engineer but we were never told about this. We'll look into it after we've spent more time with the machine and we know what we want to learn about.
First impressions
We've run Mach 3 machines, and linuxCNC machines, and of course the machines we make, but never an industrial CNC machine. It took about 8 hours to get the tooling loaded and probed, and figure out how to load and run a program.
This was only possible because the Haas manual is really good. There may have been one, maybe two, things that we had to Google to figure out but it was otherwise straightforward and very well documented.
The first time you see a machine like that move at full speed it's shocking. I literally jumped back. The second and third time are a little less eventful but it's an impressive machine to watch. As we change out some of our cutters, and find out how hard we can push it, we expect to be very productive with with our very own VF-2SS.
The probing is awesome. I used bold and italics- that's how awesome it is.  It's well integrated into the control and it will save us hours of time each month.
One final note, I've always been a fan of GWizard from CNC Cookbook for calculating speeds and feeds. Now that the cutters are big and expensive ($120 carbide cutters and $220 dovetail cutters), I have an even greater appreciation for the value of GWizard. I wouldn't have a clue how far to push the speeds and feeds without it. If you run a CNC machine, get it.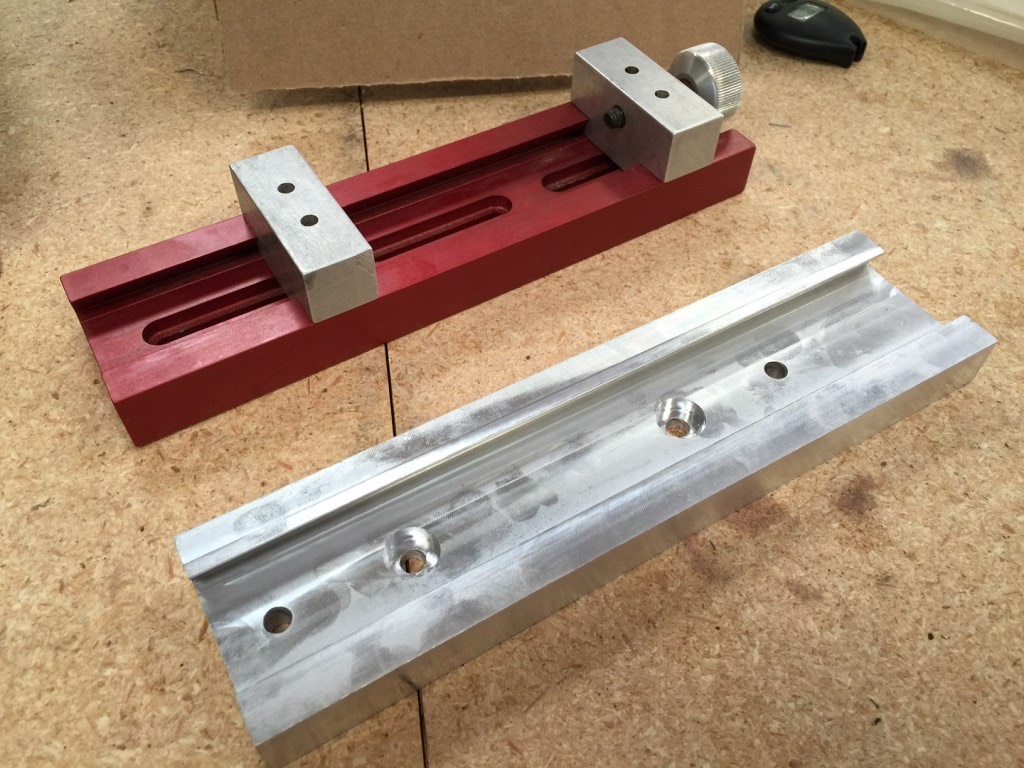 In conclusion
We expect to make many many parts on our VF-2. We're still getting ramped up but the first production parts should roll out of there in the next week.
Want a CNC machine but don't want to mortgage your house? May we suggest a Nomad 3 or a Shapeoko?