Introduction
We get questions about how our Shapeoko CNC Routers compare to the X-Carve from Inventables.  We've got a wide range of CNC routers for every use and budget, so we'll compare the X-carve to our Shapeoko 4, which is the most similar machine we make.
History
Shapeoko and X-Carve share a common history.  Shapeoko 1 and 2 were created by Edward Ford (now a part of Carbide 3D) as the simplest, most affordable CNC machine possible.  It wasn't made to be the highest-performing machine, it was made to be the most accessible.
When Edward joined Carbide 3D, he brought the Shapeoko brand and the desire to make a break from the past and create a new, high-performance machine.  Backward compatibility wasn't a goal; making a great machine with great value was the goal.
At the same time, Inventables decided to refresh the Shapeoko 2 design to incorporate a number of design changes to reduce the parts count and rebrand it as the X-Carve.  From all appearances, the design changes were made to maximize backward compatibility with the Shapeoko 2, not to make a fundamentally better machine.
At Carbide 3D, the Shapeoko 3 was created from a clean sheet to make a much better machine.  We made the Shapeoko 3 for years, and eventually, we started over one more time with the Shapeoko 4 to increase performance again and make it easier to use.
Mechanical Differences
Extrusion Profiles
Both the X-carve and the Shapeoko are built on extruded aluminum, which is used to built the whole machine.
The X-Carve is based on Makerslide, a small aluminum extrusion made for generic linear motion.
Starting with the Shapeoko 3,  we knew from experience that a new extrusion would be required.  Makerslide is not strong enough for the machines we want to make; it won't scale beyond a small tabletop machine without a lot of flexing.
Here's an image of Makerslide vs. the Shapeoko extrusion.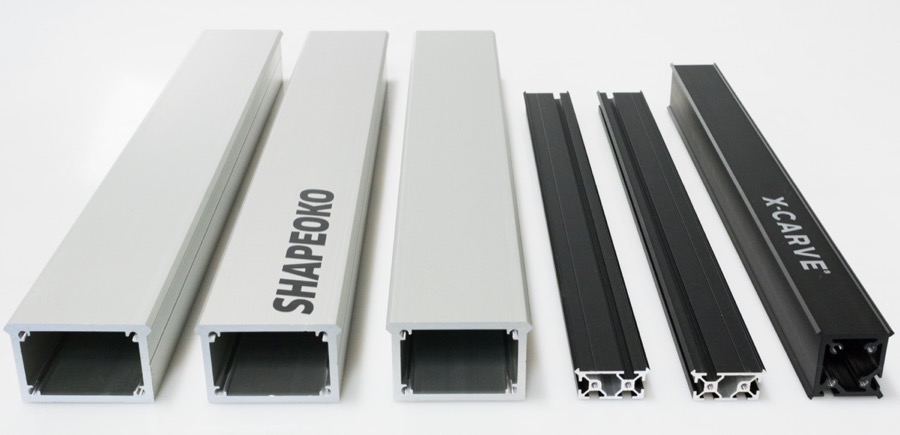 Our outer dimensions are approximately 55mm x 80 compared to 20 x 40 for Makerslide.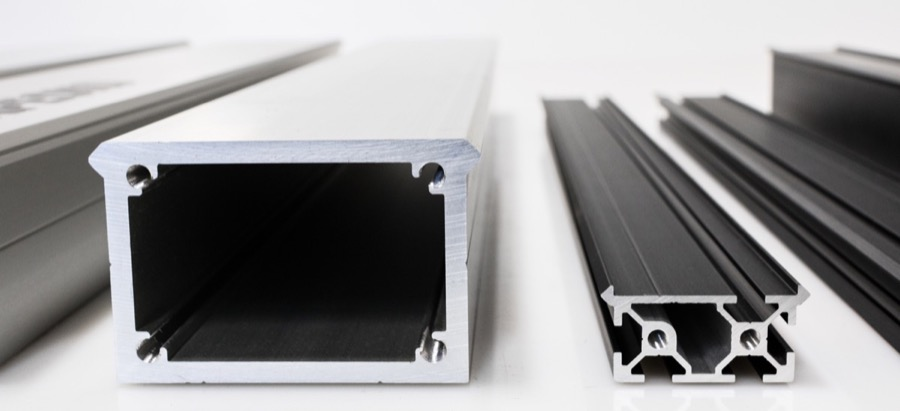 Our rails are cut to length in our shop using large machining centers (Haas VF-4) to make the cut's length and angle as perfect as reasonably possible.  We found that we could never get the cuts square enough using any other method, so we decided to eliminate the quality problems once and for all.
V-Wheels
Up to the Shapeoko 3, we used the same V-wheels used in the Shapeoko 1 and 2 and the X-carve.  We found that they sometimes failed on the Shapeoko 3 because it was a heavier machine capable of larger cutting loads.
For the Shapeoko 4, we designed a new, heavy-duty V-wheel that is much more robust and much more rigid.  These new V-wheels rarely fail- they don't break in normal use.
The side benefit is the rigidity of the new V-wheels.  The new V-wheels are about 40% more rigid than the wheels used in the X-carve.
Belts
The Shapeoko uses 15mm belts, and the X-Carve uses 9mm belts.  The math is easy; our belts are 66% stiffer.  This directly translates to less chatter during heavy cuts.
Hybrid Table
Shapeoko is built on top of our Hybrid Table that gives you flexible T-slot work holding for all your projects.  More importantly, it's a rigid base to build the machine on, so you have a reliable machine capable of pushing the cutter hard.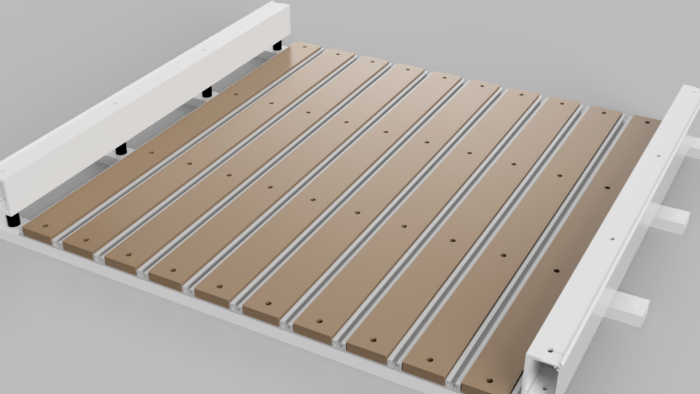 The Hybrid Table also fully supports the Y extrusions to eliminate sag or flex.
The X-carve Y rails are only supported at the ends, making them susceptible to bending and flex, which can be a bigger problem for their lighter gauge extrusions.
You can read more about the Hybrid Table here.
Z-Axis
The Shapeoko and X-Carve Z-axis units are built on a similar architecture- lead screws and linear bearings.
Shapeoko uses HG-15 linear rails compared to the MGN-12 rails used on the X-carve.
HG rails are much more rigid than MGN rails.  HG uses four rows of bearings, compared to 2 in the MGN.
Sheet Metal
The sheet metal in the Shapeoko 4 is 10 gauge steel that's powder coated for a durable finish.  Wherever possible, we use press-in nuts to make the machine easier to assemble and to keep it from looking like an Erector Set.
X-Carve sheet metal is 2.78mm thick
Shapeoko sheet metal is 3.62mm thick
Shapeoko sheet metal is 30% thicker than the X-Carve
Assembly
Shapeoko machines are sent as fully assembled as possible.  We know you want to start making parts rather than spend days fiddling with nuts and bolts.
X-carve is shipped as a full kit- you're going to have to assemble every nut and bolt.
This is what the Y plate looks like for the X-Carve: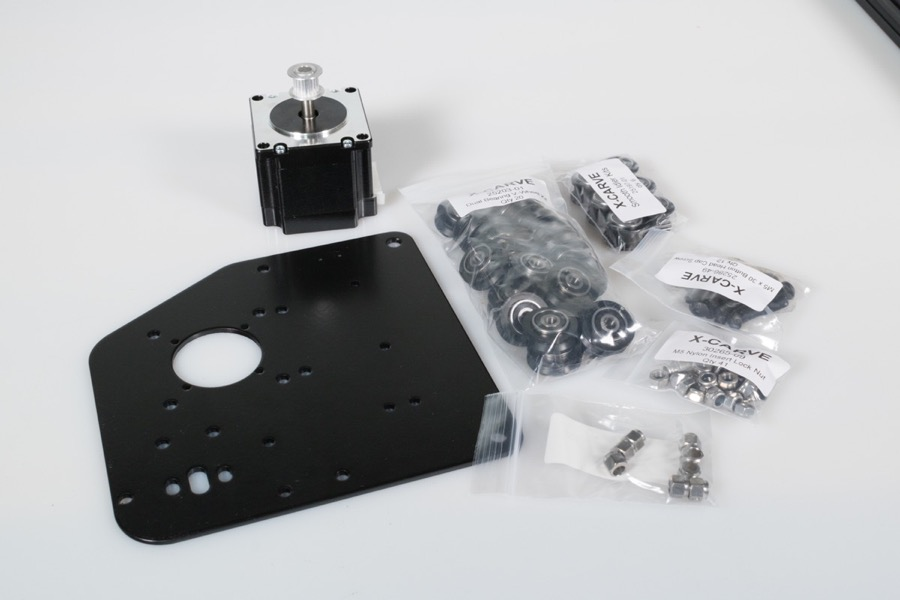 Inventables estimates that an X-Carve takes 16 hours to assemble. Shapeoko 4 takes approximately 3 hours.
Accessories
Bitsetter
Carbide 3D created the BitSetter, our system that automates tool changes so you can use as many tools as you want in a single G-code file.
BitSetter is based on a combination of hardware and software, and only we have it.  No competing machine has a better tool change workflow than Shapeoko.
Software Differences
Shapeoko and X-carve both come with design software and a machine controller.
We aim to create software that will be useful to you for a long time.  We modeled our Carbide Create CAD/CAM program on existing programs and tried to simplify along the way.  We think we've struck a good balance between power and ease of use.
Carbide Motion, our machine controller, gives you all the power of more advanced systems without flooding you with every option, whether you need it or not.
In both cases, Carbide Create and Carbide Motion, we've made our software available as a download for Mac and Windows.  We do not believe in cloud-based software for CNC machine control.  You should be able to use the machine in the environment you want, without being subject to the state of our website.
X-carve comes with a license to Easel Pro (which reverts to the more limited free version of Easel after three years).
Easel is a more simplified CAD/CAM program than Carbide Create.  Getting started is easier, but it's more likely to become a limiter for you as you progress to more advanced projects.
Easel is also a web-based application, so it depends on you having an account with Inventables and an Internet connection in your shop.  You cannot download it and run it offline.
Cutting Size
X-Carve is available in a single size:
X-Carve 1000 - 750mm x 750mm
We offer Shapeoko in 3 sizes to best suit your needs and budget:
Shapeoko 4 - 16" x 16"
Shapeoko 4 XL - 32" x 16"
Shapeoko 4 XXL - 32" x 32"
The Shapeoko 4 and Shapeoko 4 XL are sized to be the deepest machine that can fit on a standard 24" workbench.
Options that aren't options
We don't believe in options.  We believe in selling the machine with everything you need to get it running and to cut parts.  That means we include everything you need to get started for a single price.  We don't nickel and dime you.
Shapeoko includes:
The Shapeoko CNC Router
The tools to build it
Clamps for work holding
A US-made carbide cutter
Our Sweepy Dust Boot
We've never advertised an artificially low price, only to bump it up when you configure the machine with those non-optional options.
Warranty and Support
Warranty and support are just as important as the machine because it isn't worth much if it's broken or you don't know how to use it.
Shapeoko 12-month warranty
We offer a 12-month warranty on the Shapeoko.  See it here
X-Carve comes with a 6-month warranty.
For 30 days, mistakes are on us
For the first 30 days you own your machine, we'll repair or replace any Carbide 3D-branded items that get damaged, even if it's your fault.  We want you to get started with having to worry about breaking anything. Learn about the 30-day Mistake Policy.
US-based support
All of our support is here in the US.  Whether you need help on the phone, via email, or on video chat, we're here to help.
1-on-1 training
Our machines come with four 30-minute 1-on-1 video training sessions that you can use anytime in the first year that you own your machine.  Whether you want help running a job, working through a design project, or just going over CNC theory, we'll hop on a call with you.
Made in the US
Speculation here:  we assume that most of the X-Carve parts come from overseas because they don't explicitly say otherwise.  Making parts here in the US costs more, so it seems logical that you'd brag about it.  If you allow us to brag for a moment, we make everything we can feasibly make here in the US. We do this because we think it's the right thing to do, and we do it to get the highest quality possible.
"Packed in the US"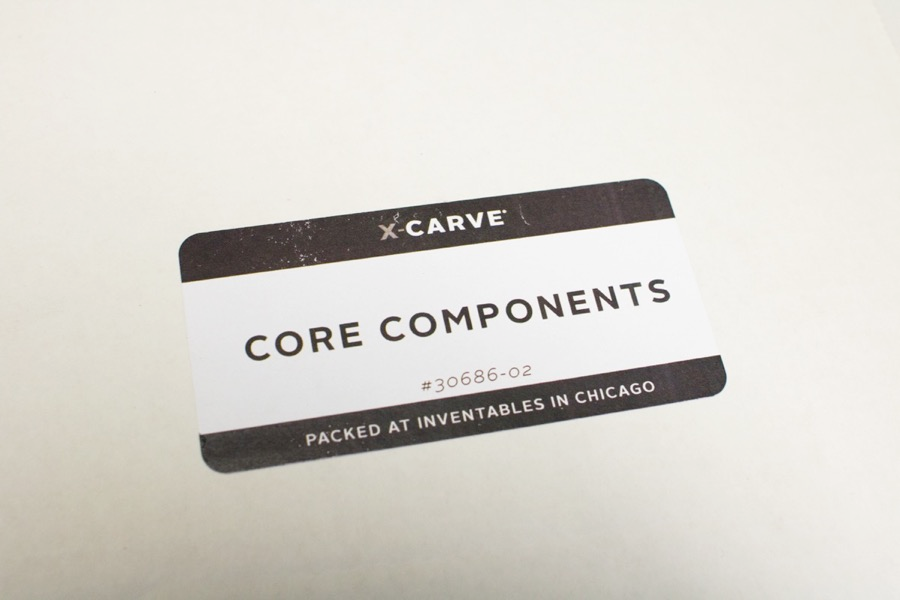 "Made in the US"
Pricing
As of early 2023, the pricing is approximately:
Shapeoko 4 XXL is $2300
X-Carve is $2600
Why is the X-Carve more money based on the comparison above?  We cannot say.  Based purely on component cost, it should be cheaper.
In Conclusion
You might think, "How convenient that Shapeoko beats X-Carve in every category."  Our reply is simple- of course it does.  We designed the machine to win.  If a part of our machine needs improvement, we improve it, even at the expense of profit.  There's no way we look at some part of our machine being inferior and say, "Oh well."
We do everything we can to ensure no customer will ever regret buying a machine from Carbide 3D.
If you'd like more information about the Shapeoko, check it out here.
If you have any questions, feel free to give us a call.  We love talking about this stuff.